Suffering from chafing or a rash?
We believe in solving real skin issues and not making false promises
Perfect for sensitive skin under stress
So that you can enjoy the skin you're in 
" What I liked about Calmmé was how effective it was after hours of running in bush trails and through rivers and showers of rain and being very, very sweaty the product was still there preventing horrible chafe from occurring."
" It did not mark my clothes or leave marks on m skin. It was easy to apply and goes a long way.Highly recommended."
"A product that helps reduce the appearance of scarring AND eliminate chaffing ….. I would be lost without it! Thanks LAJOIE SKIN! =) "
" Provides a good and long lasting barrier to chafing. Goes the distance in a saltwater environment. (i.e. lasts for few hours) "
" Unbelievable.  This is liquid gold. I now use it under my breasts to eliminate that redness from the bra and under my arms."
" Calmmé this stuff lasts, no chafed skin."
"I tried Calmmé on an area that was already chaffed and instantly there was relief."
"Do not hesitate! Calmmé is fabulous for preventing and soothing chafing."
LAJOIE SKIN 'the joy'.
Our goal is to spread joy each and every time you come in contact with us. Inspired to spread joy, we named our company LAJOIE SKIN, La Joie meaning, the joy in French.
Our first product Calmmé, was created so that we could spread joy to chafe prone skin. We take our time to develop products that are a 'real' need, no false promises.
Although Calmmé was developed to help prevent AND soothe chafing, our customers have found different uses for this one product. Multipurpose products also comply with our sustainability principles.
We are listening to you.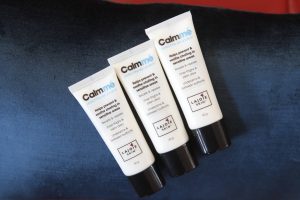 LAJOIE SKIN actively inclusive
We are committed to making everyone feel welcomed. Please let us know if we can do better, if we can do more.
Daphne Kapetas founder and CEO.